Yes, you can earn the same amount of money when you work less
---
The maths seem to make sense when you add it all up.
More time, more words, more money...right?
But why do some translators make six figures a year, while others barely hit €40k? Most of the time, it's not because they translated more words.
So many of us complain about how busy we are—there's work, family responsibility, more work, and CPD, if we get a spare moment. But other translators, with exactly the same 24 hours and responsibilities, manage to make buckets more money.
The truth is that you can earn the same amount of money—or more, while working fewer hours.
If you break down the amount of time you spend on each task every week, you'll probably find you're doing a lot of tasks that have little impact on your business.
In this article, we'll break down how to organise your time to work less, while making at least the same amount of money.
Charging higher rates
The most obvious way to make the same amount of money in less time is by charging higher rates.
It bears mentioning, but we're not going to get into how to increase your rates—that's a subject for a different article. Even if you do raise your rates (if you did—bravo!), you can still work less by cutting down on low-impact activities.
The money is in your billable hours
The money you make is in your billable hours. The time you spend translating.
That means everything else you do is not making you richer:
Admin
Social media management
Invoicing
Quoting & creating proposals
Organising documents and staying on top of client files
Things that merit staying on your calendar are things that drive your business forward. Or, things you can only do yourself, like:
Translating and whatever other billable services you offer
Video calls with prospects (yes, video calls—not emails!)
Speaking events
CPD
Things you're passionate about and love doing.
Figure out how much time you're spending on each task
Take a week or two to track how much time you spend on each task. Use the categories in the bullet points above if you want, or add your own.
You can use LSP.expert to track all your tasks—billable and not.
Right before you start another task, note down how the last task made you feel: energized or drained. Taking a page from Scale 2X, a growth accelerator for entrepreneurs, we can adapt his theory to work for freelance translators.
Go through the list and ask these important questions:
What is essential to my business?
What isn't essential?
Which of these things, if cut, would have no impact on my business?
Then, create a table to map out all the time you've spent doing these things. You'll have 3 letters to use in the table: X, D, and A.
X - Cut
The things you'll remove from your day-to-day entirely.
D - Delegate
Things you might give to someone else.
A - Automate
Things a software or tool can do faster for you.
The table should look something like this:
| Task | Time (hours/month) | Energy | XDA |
| --- | --- | --- | --- |
| Translating | 80 | ↑ Gives me energy | — |
| Sending invoices | 2 | ↓Takes my energy | A |
| Chasing invoices | 4 | ↓Takes my energy | D/A |
| Bookkeeping/reporting | 6 | ↓Takes my energy | A |
| Writing blog posts | 8 | ↑ Gives me energy | — |
| Managing Instagram | 4 | ↓Takes my energy | X |
After this exercise, you'll have a clear idea of how you can improve the time you spend on your business.
Identifying your most profitable clients
Bookkeeping and reporting are vital tasks in a business.
You need to know your numbers.
Start by calculating how much you make per hour per client. If you don't use LSP.expert, you'll have to do it manually. Otherwise, you can go to Reports > Profitability by client.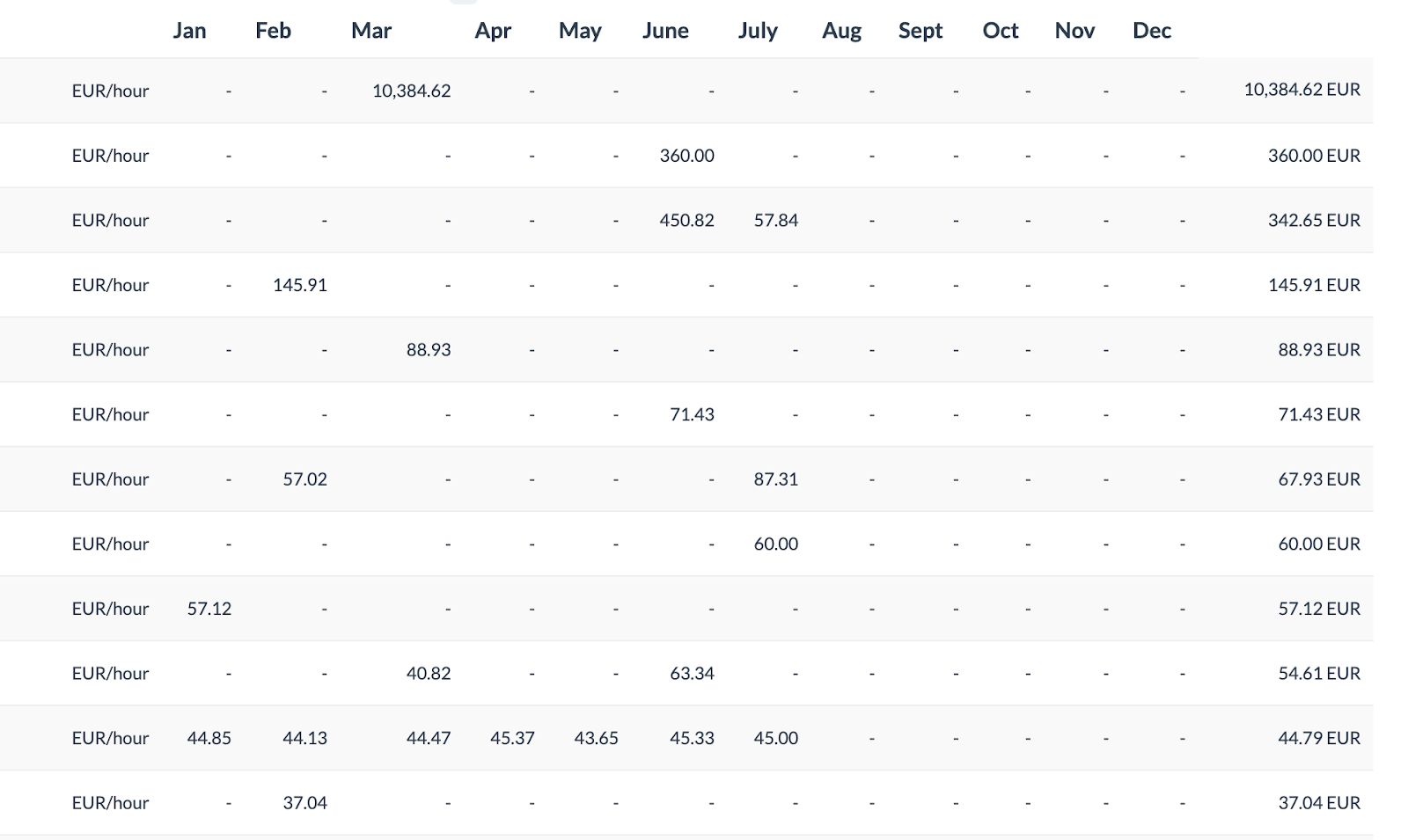 This chart in LSP.expert will show you how much you've made per hour per client, regardless of whether you're charging per word or per hour.
LSP.expert runs this report automatically for you, but if you aren't using LSP.expert yet, you can do this manually by calculating your total monthly income for a client and dividing it by the hours you spent working for them (which you've tracked by now!).
Translators don't have much overhead. We have our computers, some CAT tools, and our brains. Let's not forget our project management software, either.
You can calculate your profit margin by assigning a base value to your time and then calculating that as an expense. How much is left over? That's your profit. Which client is most profitable? You may find that you're working at a loss for some.
Focus on building your relationships with better paying clients and work toward firing the less profitable ones.
Use tools to make the most of your time
The best way to make the most of your time (work less while earning the same) is to start with tools that help you automate your repetitive tasks.
Translation is for humans, but lots of admin work doesn't need to be.
Having all your invoices, quoting, time tracking and reporting in one place can save you hours every week. Those hours which you can keep for yourself, or spend doing billable work. Don't believe us? That's cause you haven't crunched the numbers yet.
---
---